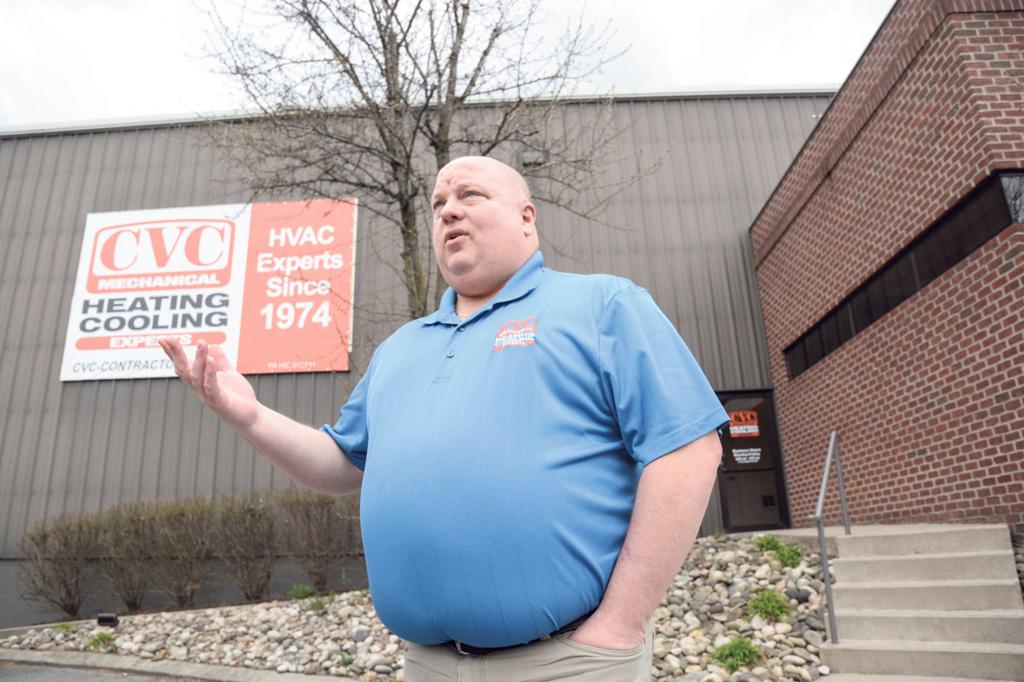 SELINSGROVE — The property of EntoGuard Termite & Pest Control in rural Snyder County nearly eight miles south of Selinsgrove looks like both a small electronic graveyard and a radio station.
Owner Boyd Martin said one extinct satellite dish and two signal amplifiers that never worked properly are evidence of his efforts of the last three years to provide high quality internet service for his business and home. He has an older style antenna, one satellite for television, one satellite on his home for internet and another satellite about 50 meters away for his business, but the service rarely works efficiently.
"It's not something I usually complain too much about, I just accept it," said Martin, 44, who founded the business in 2006 and has operated at the current location for the last four years. "It really hits home. It's been tough."
Martin said he wanted to use the business-level service for both his business and home, but the connection wasn't strong enough to share, despite the close proximity to each other. He also noted that a neighboring house has Verizon DSL (Digital Subscriber Line), but the company won't bring it to his location.
Rural Pennsylvania communities are suffering, he said.
"Our software provider cannot provide our new employees one-on-one training because the satellite internet is too weak," Martin said. "I don't think the government should pick up the tab for this, but our state communications department can start to regulate better in a way that says to Verizon 'make your broadband more accessible or we will find a company who will.'"
The software gives technicians real time updates in the field. It also handles scheduling, financial transactions, and routing technicians on the road, he said.
It doesn't just affect his business, but also his family. With four daughters still in school, they have "a miserable time doing homework," Martin said. "I have to believe that puts them at an educational disadvantage."
The girls have to take turns doing homework, he said.
"At the end of the day, we're still thankful for what we can do, but we know it is holding us back both personally and professionally from doing more," said Martin.
Jon Cataldi, who lives and owns a home improvement business called Earth Energy Innovations in Port Trevorton, said internet service there is "horrendous." He used to have Verizon and then satellite internet service through Hughsnet, and he finally switched to Impact Wireless, an Iowa-based independent company that uses T-Mobile towers.
"It's not the fastest, but it's better," Cataldi said. "Businesses need higher quality internet. Over the years, in Port Trevorton, you learn to deal with it."
Voice Over Internet Protocol (VOIP) phone systems rarely work properly, QuickBooks runs too slowly and documents take hours to download, Cataldi said.
'It's maddening'
Heather Tawney, of Port Trevorton, said she moved to the area in 2010 from Gettysburg. She said she called Verizon every month for eight years before the company brought DSL to her home.
The service is still so bad that her middle school-aged children often use cellphone hot spots to finish their homework at night. Just this week, Tawney tried to file her state and local taxes, and ended up using her phone to finish it because it was faster than using her laptop.
"It's maddening," said Tawney. "What we pay for and what we get is sickening. If the kids didn't need it for school I would go completely without. I can't even dream of doing Netflix or using my Amazon Prime for videos, let alone YouTube."
Kirsten Wilson, of Shamokin, has two children, ages 6 and 8, in PA Cyber. She said she has constantly upgraded her internet packages because they go over the cap.
"We were having delay issues where the teacher says something and we can't hear it for five minutes. We're missing content," she said. "Since we upgraded, it's not as bad, but we're paying even more now."
The bill jumped $20, but even that amount of money is significant when her husband does seasonal construction work, she said.
"It's not just me," she said. "A lot of families are considering homeschool methods, and there's kids in brick and mortar settings who need to use internet for homework after school. Not everybody in the area can afford expensive internet."
Kitty Souder, who lives in Northumberland County, about three miles outside Pillow, said she uses TDS Telecom for $80 a month through the home phone line.
"My daughter couldn't even use her laptop to do college work due to slow speeds," she said. "Half the time it's down, the other half we can't watch Netflix and use the Xbox at the same time. When will civilization come to rural lower Northumberland County?"
Verizon spokesman Andy Troy declined comment for this article on Friday, but a different spokesman in March 2017 spoke to The Daily Item about the difficulty of bringing broadband internet to rural communities.
It would cost "millions if not billions" to provide copper or fiber lines for broadband internet across rural Pennsylvania, Verizon spokesman John Johnson said two years ago.
"When you have a lot of rural geography, the cost to serve goes up exponentially," Johnson said. "That's not just Pennsylvania, that's all over the country."
In some areas, he said, even using copper lines to deliver DSL is "impossible" due to distance and technological limitations.
"Replacing that copper with fiber is prohibitively expensive," Johnson said.
["source=dailyitem"]